Advertising
The HotelSite offers the possibility to place advertisements in the form of logos. Logos with a link to an internet page and animated gifs. The prices are dependant upon the size of logos and placing on the Hotelsite.
For example, a logo of 150/70 pixels will cost about € 50,- payable quartely.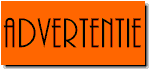 For the placement of an advertisement you can contact the HotelSite.
HotelSite
Entrepotbrug 57
1019JC Amsterdam
Tel: 020-3371111
E-mail: sales@hotelsite.nl